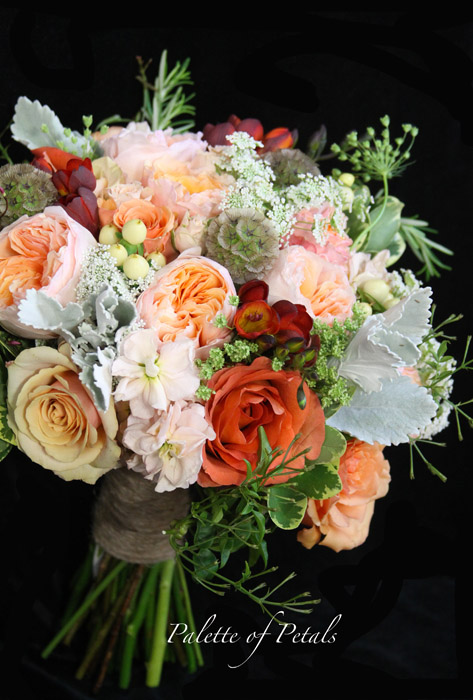 Allow us to put our passion and creativity to work for you...
Palette of Petals is a different kind of florist. We use an artistic, organic approach with each composition to create colorful floral arrangements that complement the mood and style of your special event. We'll walk with you through the design process and bring your vision from the beginning, dreamy blur of color into fragrant, textured reality.

It's all about color for us. Color brings out emotions, evokes memories, and affects our moods. Color is a subtly powerful force in nature, and flowers are one of the most intense examples of that power.

Thank you to all our beautiful couples for giving us such great reviews! Palette of Petals won Wedding Wire's Bride's Choice Awards 2012 &2013 and Wedding Wire's Couple's Choice Award 2014!! Thank you all so much!! We are so honored by these awards and grateful for your kind words.

We are proud to announce that Palette of Petals has been rated by local brides and voted "The Knot Best of Weddings 2011 Pick, " "The Knot Best of Weddings 2012 Pick," "The Knot Best of Weddings 2013 Pick, " "The Knot Best of Weddings 2014 Pick!, " and "The Knot Best of Weddings Hall of Fame!!" Thank you, again, to our amazing brides and grooms!! Y'all make us LOVE what we do and allow us to do what we love!
Virginia Living Magazine named Palette of Petals as one of the "Top Wedding Vendors for 2013" and "Top Wedding Vendors for 2014!"

Whether it's a single arrangement or a large, lavish wedding, we put a lot of thought and effort into each order. We work hard to make our customers happy and to convey the desired emotions though their flowers. Click here to read what some of our clients have to say about us.

Palette of Petals is on Facebook! Check out the photos for highlights from our weddings and events.

Click here to see our custom built Bamboo Arch and Wisteria Arch and other rental items. If you have an idea, let us know! We have a sleek, modern arch, a rustic frame, and a Victorian Garden Gate in the works next. We'd be glad to create a custom design for you.

Looking for something? Try our list of local vendors for weddings and events. These companies have demonstrated professionalism, dedication, and great service. If you're planning a wedding, our Wedding Flower Checklist will help you figure out what you need. It's a good way to get started with your floral plan.